Ukrainian IT: Survey by SquadGurus analysis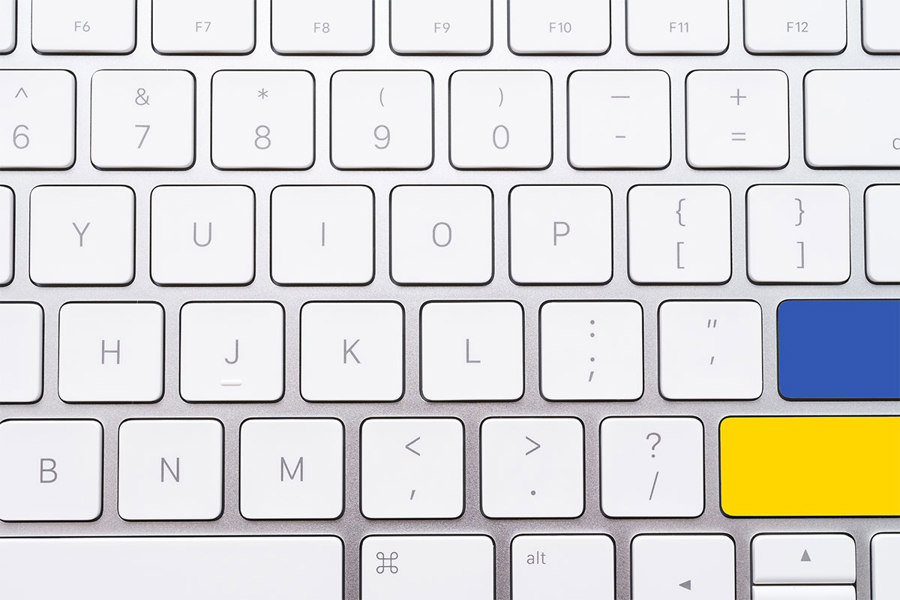 Ukrainian IT: Survey by SquadGurus analysis
This year was probably the harshest of all for the Ukrainian IT market, at least if aliens won't invade the Earth in 2023. We are running through the most brutal war since World War II, electricity shortages, and forced relocations, and we stand still. Since the first moments of russian invasion, we felt that it was the beginning of something great in the future. So, UKAD decided to secure the delivery, and conduct fundraising for the armed forces and volunteers because of knowledge that it's a big chance for Ukrainian IT ahead. And now we have numeric proof of our expectations!
SquadGurus and Red Jumpers surveyed 67 Ukrainian IT companies and got quite interesting and promising results that indicate a stable situation and sustainable growth. In this article, I want to analyze the digits from this report and explain what they mean for our foreign partners. Let's go!
On the road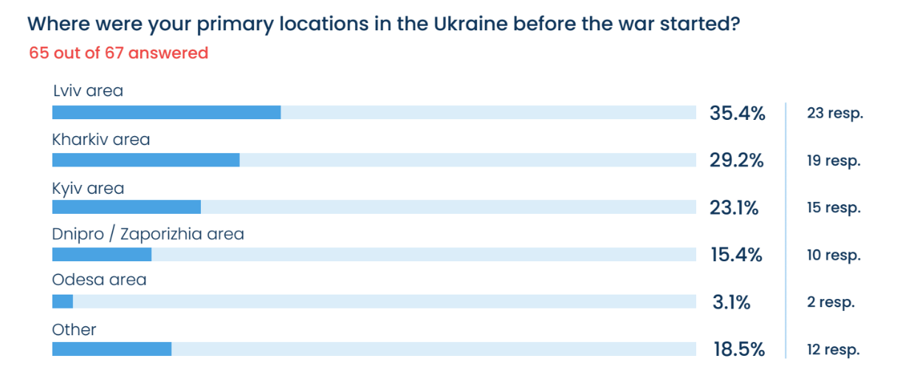 The companies which took part in the research spread in a bit different way than what was commonly listed: the first is Lviv, then Kharkiv, Kyiv, Dnipro / Zaporizhya area (for some reason together), Odesa, and the others. While, before the war, we had most companies in Kyiv, then Lviv and Kharkiv competed. This distribution of locations may inflict the correct analysis, because many companies from Eastern Ukraine decided to move their headquarters to other countries. The first weeks were really harsh in Kharkiv, and I can't blame them for this step, especially if they keep their development facilities in Ukraine.
Then, we see that locations changed: companies decided to move in the Western direction. So, over half of those surveyed today operate in Lviv, and more than a third part -- somewhere around, like Transcarpatia or Wolyn. From my tower, it looks like an epic opportunity, almost a cheat code, that turns these locations into more or less developed tech hubs. Thus, it may improve the overall talent pool available in Ukraine and help us to beat Poland in the CEE IT markets race.

At the same time, we see how strong was our reliance on the Armed Forces of Ukraine: only 9 companies moved. Today, it seems irrelevant because during 9 months of the war many more development firms decided to move their sales and operation departments somewhere near to the customers. Again, it's a good step because these parts of the business should have enough mobility to attract more money for donations.
Customers flow
As mentioned above, this research was conducted in the early stages of the war, so it may be slightly incorrect today. We see that half of the respondents didn't face any significant changes in their project flow. Even more, there are nine companies with significant growth! Don't forget it was the time before the russian fleet from Kyiv suburbs and North-Eastern regions, when Kharkiv was heavily bombed, and many people were just running somewhere away from the danger without any possibilities to work. Today, the trends should change because russians performed some gestures of goodwill from Ukrainian lands, AFU successfully liberated the Kharkiv region and showed that Ukraine will win. Now, when Kharkiv and Kyiv are as safe as Lviv and Uzhgorod, due to the bravery of our defenders and the quality of supplied air defense systems, and Ukrainian forces just taken back Kherson, it's becoming safe again to work with Ukrainians.
Away from the battlefields, we also displayed that Ukrainian IT firms are reliable partners, even under bombs and missiles. We established an unbelievable level of coordination between teams divided over hundreds of kilometers, reliable security practices, operative evacuation of people and hardware, and so on. Thus today, working with Ukrainians isn't any riskier than before the war. Of course, heavy bombings, like November 15th, can interrupt the delivery, but their impact is somewhere between national holidays and another flu epidemy.

So, at the beginning of the war, some companies had a more or less significant decline in customer flow. It's absolutely clear why Ukraine became a dangerous partner, and there is nothing to talk about, to be honest. More interesting is how nine companies got more customers. In one case, it was due to shifting from project-based models to staff augmentation, which seems to be more sustainable in such a harsh time. 
Grounding on the last statement, I believe that a part of outstaffing or staff augmentation services will grow in short- and mid-terms, because it's a good way to achieve projects neglecting the risks of placing full-scale development in Ukraine.
Human Resources
The most important and the most interesting part of this survey is a number of employees in Ukraine.

47 companies faced no sufficient changes in the number of employees from Ukraine, which has a straight logic: the majority of Ukrainian men are unable to leave the country. But at the same time, the most common reason for the decreasing number was relocation to the other countries.

This situation, of course, induced some changes in the talent pool, but unexpectedly. While almost half of the surveyed stated that nothing changed in hiring, 18 companies said that it's easier to hire senior engineers than before. From my point of view, it seems to be an outcome of companies' relocations that forced some part of the developers to review their plans and ambitions and improved opportunities for 'middles', replacing their forerunners who fled to other countries.
Such changes can be a good driver because every niche in the market should be occupied, so younger developers get an incentive to study, improve skills and finally obtain new positions. At the same time, there comes a major risk of lower quality education in Ukrainian STEM faculties due to the COVID lockdown and the war, so senior developers have to improve their mentorship skills to get reliable junior reinforcement.
Anyway, even now, in the tenth month of the war, the situation with the talents tends to be rather positive, because more and more Ukrainians decide to become software developers and development firms understand the importance of human resources, so we can expect increasing investments into education. On the other hand, a lack of planning and striving for short-term results can reduce the overall quality.
Future
The most promising part of this research is the future plans of every respondent. Every surveyed company was looking for new contracts even during the hottest phase of the war. So, if they were brave enough to discuss new projects under heavy bombings, I hope today they are already delivering under these contracts.

As mentioned before, the Ukrainian IT community looks forward to great opportunities in the market. While a remarkable percentage of Ukrainian industry is physically destroyed, our country requires a reliable source of income which should become software development services. Thus, we expect some assistance from the government, at last, we hope they won't interrupt our work, and dramatic growth of the talent pool just because our nation has lots of talented and tech-savvy people left unemployed.
Anyway, I'm happy to know that only one of 67 doesn't see great long-term opportunities for the Ukrainian IT industry. And even more, 36 respondents see these opportunities as ten-out-of-ten! Isn't it an amazing belief in victory?

So, stay tuned and trust UKAD and Ukrainian IT, we will overcome!
Ukraine

Outsourcing to Ukraine

Survey

business
Popular articles
Stand with Ukraine
The war started in the early morning of February 24th by Russia is not a war on Ukraine. It is a war against humanity. Russians brutally devastate Ukrainian cities, murder civilians trying to evacuate, shell hospitals and kindergartens. Since the beginning, over 14 hundreds civil Ukrainians, including over a hundred children, were brutally murdered only according to the available data. The real numbers are still unknown because russian military forces don't allow collecting and burying bodies.
read more
UKAD Secures a Leading Position by Delivering Robust Software Solutions: GoodFirms
04.11.2022
Anna Stark from GoodFirms
Disclaimer: This article was created before our headquarter moved to Seattle, USA!
As an outsourcing software development company with R&D and engineering teams, UKAD helps its clients develop their software according to their requirements. With specialization in .NET and PHP technologies, the company aims to deliver the best robust solution to clients and assist them in obtaining a competitive advantage.
read more
UKAD Earns Another High-Scoring Review on Clutch
Success in the digital industry is about taking one step at a time, ensuring that you did everything right before moving on to either expansion or specialization. Our team has done exactly that since we began operating in 2005, and now we're reaping the rewards of our team's patience.
read more