Want To Appoint Android Developers For Your Project? Refer Some Tips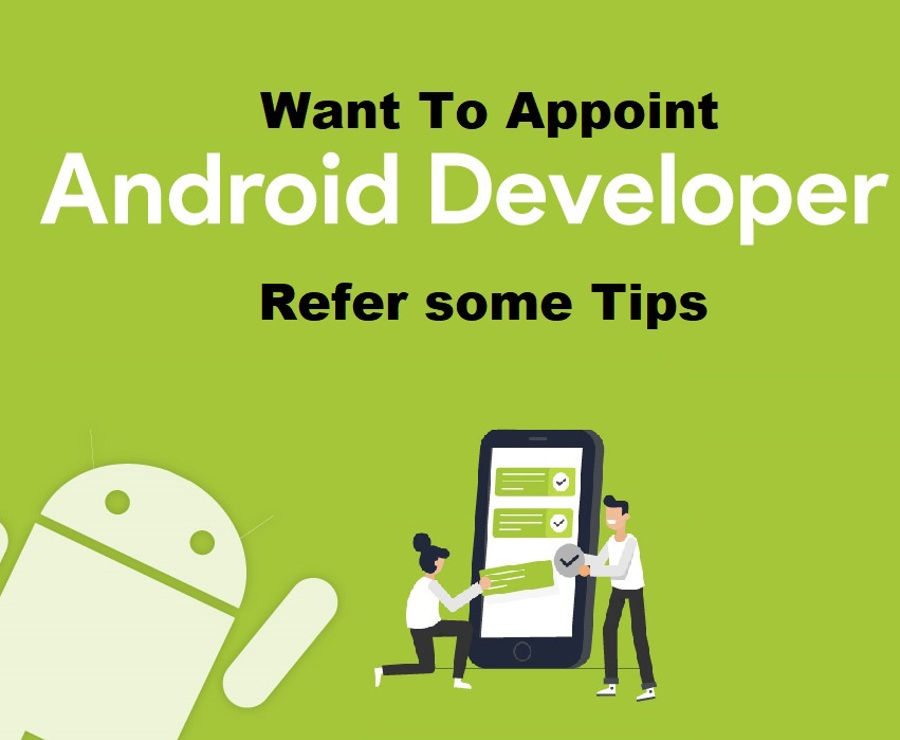 Want To Appoint Android Developers For Your Project? Refer Some Tips
You must know that Android is currently the most trending OS among all smartphone users. As a result, Android apps are dominating the market due to their terrific requirements among people. Most users from all over are utilizing various sorts of Android solutions to satisfy their purposes rapidly. Hence, the market share of Android rose to a great extent due to the high user base.
As per 2022 statistics, there are more than 2.8 billion users of Android reported worldwide, which denotes the significant usage of Android solutions among people. So to grab advantage of such demand, numerous entrepreneurs have shifted their business online by building their solutions on Android and are also earning a considerable income through it.
By observing such a rise in local ventures, many entrepreneurs are motivated to create their Android applications by hiring programmers working on this tech stack from specific firms. But how to hire them? If you, as a startup owner, also have such a question, then by referring to tips for appointing Android developers and the benefits of hiring them mentioned in this post. These sections will help you get an answer to your question.
Tips To Appoint Android Developers
Getting an Android application created for your venture is the best choice made by you as an entrepreneur. By following the below-mentioned tips to hire Android programmers, you will get to know about several actions to be performed to appoint the most appropriate ones for your business.
State Your Business Needs
The first thing you should do is select a specific category of enterprise that you want to run online. Once the type of business is determined, you need to survey applications present in a particular market segment, know the several features they offer, issues faced by people, preferences of users, etc. By understanding such things, you can know what exactly your venture needs.
Decide The Attributes
Finalize the specifications to be implemented in your Android solution for your enterprise. Decide only those that are appealing to users, mandatory for your venture, and not too complex for developers to implement in your solution. When the attributes are decided by you, then you should search for companies offering mobile app development services.
Know The Various Development Firms
Research and find the different technology partners from whom you can hire Android developers to create an application for your business. Take a look at their websites thoroughly and go through the pricing pages to appoint its Android programmers. It will help you in setting the budget for developing solutions for your enterprise and take one step forward toward hiring coders working on Android from a particular firm.
Analyze Their Programmers
When you have sorted some companies based on your set budget, now you should examine their Android developers. Ensure that they must follow the fundamentals for creating your business solution, possess sound knowledge of the particular programming language required, and deliver high-quality outputs to you. The quality of an application can also be verified by requesting their previously accomplished projects and analyzing the past reviews of the firm's clients. It will help you determine whether to go on with appointing Android programmers from that company or choose another one.
Make a Deal With a Suitable Firm
You should seal the deal with a specific development partner and hire Android app coders to get a venture solution ready, possessing enough industry experience, proficiency in the particular programming language required to create Android solutions, and the ability to implement attributes properly. In addition, you should also discuss with them the timeline for submitting your application ready and the duration of free post-launch support to be offered by them. 
So, by reading these tips, you might have received an idea about appointing Android programmers from development companies. Now you must know the several advantages of hiring them to build your business application.
Perks of Hiring Android Programmers
Due to the intense usage of Android solutions among users worldwide, entrepreneurs started building applications for their ventures by hiring Android developers. Hence, most programmers adopted Android technology because of its high requirements and its easy-to-understand syntactical structure of code. As per the report, Android is ranked among the top 10 technologies worldwide because of its utilization ratio, and you, as a startup owner, would gain several positives and some of which are stated below:
Reduced Building Costs and Time
The Android developers appointed by you can create solutions for your business in minimal time, along with integrating third-party apps inside them easily. The costs of developing an application for your venture would be reduced significantly, as programmers can build apps rapidly without any hassles. So, they can give you a trendy platform for enterprises created to stay afloat in the market at an affordable rate.
Google Support
For building Android applications, coders are provided with support from Google, which includes solving problems occurring while creating apps, fixing bugs, enhancing data security, etc. It assists you in getting errorless solutions in a lesser time for your enterprise. Therefore, it says that by building Android apps by appointing programmers, you will be able to get rid of complex issues occurring inside your business solution easily.
Safe And Secure Apps
You might be aware that the Android operating system continuously upgrades its security policy by offering updates of security patches on Android devices at fixed intervals. So programmers need to create applications by identifying potential issues for providing a safe experience to users. Malicious network hackers are always in search of an opportunity to leak the sensitive information of users registered in a solution by adopting new hacking tricks and measures to take advantage of that data. 
Thus, as an entrepreneur, you will get a solution secured with several security features implemented inside by appointing Android developers.
Simpler Customizations
You will be able to customize your enterprise application entirely, whether it's UI/UX, features, or a logo, by getting it developed by Android programmers. It's because Android gives various alternatives to customize business-centric solutions geared with numerous attributes. In addition, programmers can access Android SDK without paying any charges for making multiple changes to your app.
Final Words
As you have seen earlier, the demand for Android solutions is among people across the globe. There are numerous startup owners taking advantage of such requirements by shifting their ventures online through Android apps by hiring programmers to create them. If you are also fascinated to build your Android application, then following some tips and knowing a few positives of appointing Android developers mentioned in this post will assist you in stepping into the digital market and getting a desirable Android solution for an enterprise developed.
Author: Lily Laster
Mobile development

Android

guest