Work-life balance at UKAD
Work-life balance at UKAD
Maintaining a balance between work and personal life is crucial for the overall well-being of people. When teammates have the time and energy to engage in activities outside of work, they can draw inspiration from various aspects of their lives and apply those insights to their work, leading to more creative and effective solutions. A proper work-life balance allows employees to allocate sufficient time to tasks, leading to higher-quality outputs and fewer errors.
Working process  
At UKAD, we recognize the importance of a healthy work-life balance for our team members and are committed to ensuring it. 
The workflow at UKAD is organized efficiently, where our colleagues can work remotely from anywhere in the world, as well as visit our offices at their convenience. The combination of such working models aligns with diverse work styles, boosts productivity, and enhances overall well-being. Embracing these approaches leads to more adaptable, motivated, and successful individuals. 
High-quality working equipment directly impacts the ability to complete tasks efficiently. We supply each UKAD person with all the necessary equipment, especially laptops with sufficient processing power and memory that ensure to run demanding applications and multitask seamlessly. Our adaptive work schedule allows them to complete tasks at the most convenient time slot.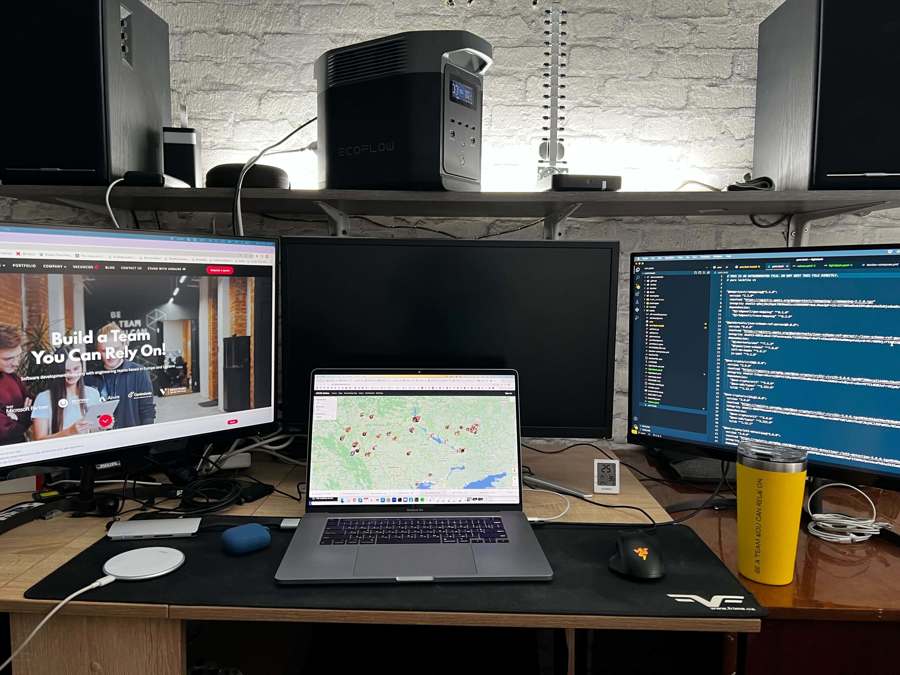 Culture and leisure
To take breaks, recover from illnesses, and spend quality time with family and friends, UKAD provides vacation days, sick leave, and paid national holidays. When employees return from a vacation, they often bring fresh perspectives, renewed energy, and a clearer mindset. This leads to more creative decision-making and higher-quality work.
Systematic online training (two intense workouts and two yoga classes a week) has long been an integral activity in our company, making our members healthier, better organized, and energetic. Besides that, UKAD also compensates for sports activities and marathons. We have created our own sports community in the Strava app, where we share our athletic achievements, photos and support each other. We also arrange internal sports challenges that motivate us to be even more active.
Until 24.03.2022 we used to hold professional offline meetups in our cozy office in Kharkiv and spent lots of time together in nature, hiking, kayaking, karting and engaging in many other activities. And of course, in summer and winter, we gathered for a big corporate party… After the russian invasion, a big part of our team was forced to relocate to safer cities in Ukraine and Europe, so most of the HR activities and team building take place online now.
Together we solve fascinating detective quests, play Quiz, Mafia, practice juggling, and more. But anyway we try to get together for live meetings in cities where a lot of our guys are based. It is the most enjoyable and valuable time together, keeping teammates in good mental health, and enhancing team communication. Personal connections formed during in-person meetings yield improved collaboration and smoother teamwork.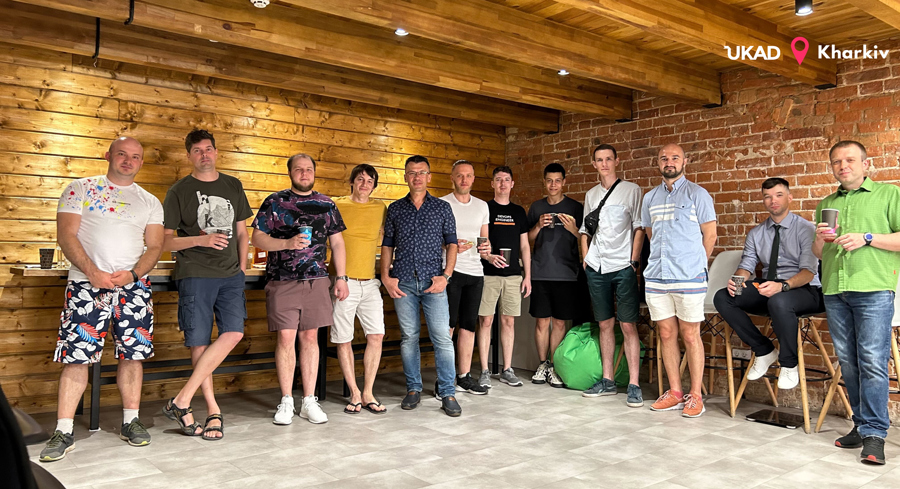 Our aim is to ensure that every UKAD person's health is looked after, not just ticking the 'we provide health insurance' box. Therefore, we have set up an insurance system in the form of a separate fund, which is constantly replenished. Insurance is guaranteed in accordance with the coverage program. And long-term employees can use dental insurance as well. 
Social responsibility
In the new conditions, we felt what true unity and mutual assistance in UKAD are like. We do everything to support the morale and health of everyone. Also, UKAD has extended the benefits with psychological support and the possibility of legal consultations at the company's cost. Together we collect funds for the Armed Forces and volunteers. Equipment and transportation are always needed at the frontline. That's why UKAD brought more than two dozen vehicles and evacuation buses for the military and volunteers - the quantitative assessment may be different at the moment, as the assistance is provided on a regular basis.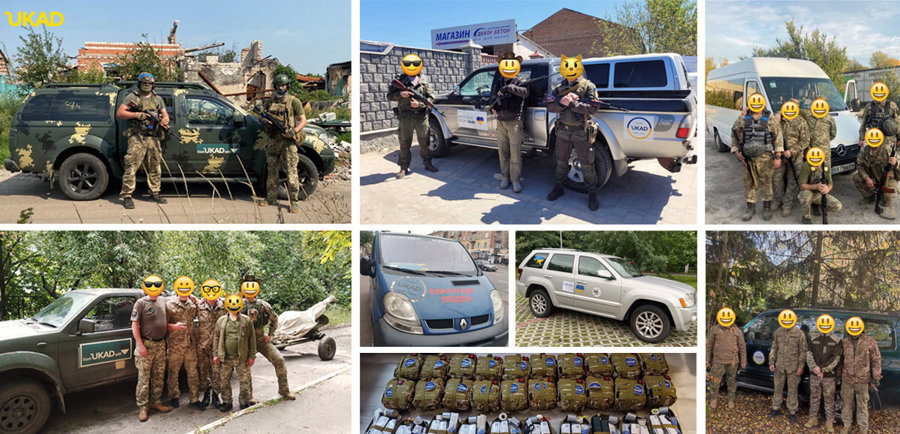 By the way, one of these pickup trucks for the military from UKAD also helped on the information front: in the summer of 2022, a team of journalists from The Sun filmed a report in the liberated Ruska Lozova using a pickup truck we donated to the military," the team shares. The report can be viewed here. 
For our contribution to the strengthening of our army and to the Victory, UKAD received official gratitude from the units of the 92nd and 127th Brigades, as well as the Varta Volunteer Force. But most importantly, we realized that the donations of each member of the company saved someone's life and brought us closer to peace!
Education and Development
UKAD is confidently developing essential partnerships to demonstrate technical expertise, industry recognition, access to resources, and credibility. UKAD has the status of Gold Microsoft Partner, which signifies a high level of competency and commitment to Microsoft's ecosystem. We support our developers with the intention to confirm their knowledge and skills through certification. The number of certified developers in UKAD is growing every month, and this demonstrates the expertise and goal-oriented approach of our team! 
For professional development possibilities, UKAD compensates for participation in conferences and meetups and covers more than 400 self-paced courses on Udemy and Pluralsight. A career development plan is developed and assigned through the mentor to each member of our team, as well as holding one-on-one and performance evaluation meetings twice a year. This enables team members to work on enhancing their skills, leading to a more capable and effective workforce. Our team becomes more motivated and focused, which leads to higher levels of productivity.
Our top specialists have developed the Internship program in two directions -
Microsoft .NET and Front-End Development. Interns can deepen their skills with the assistance of UKAD experts, gain practical experience on real projects, and start their careers in our friendly team. It not only benefits the company by providing a reliable talent pipeline and fostering innovation, but it also empowers interns with practical skills, career opportunities, and confidence. Moreover, by contributing to skilled professionals and the technology industry, our program positively impacts society's growth and development. 
Conclusion
We believe that UKAD's positive culture of work-life balance fosters healthier, happier, and more engaged people, which in turn contributes to the company's growth, innovative products, and long-term success. UKAD's commitment to work-life balance transcends individual well-being, weaving into the fabric of the company's achievements and aspirations. This philosophy, which acknowledges the multifaceted nature of a fulfilling life, lays the foundation for a harmonious, innovative, and prosperous future for both the company and its dedicated team.
 Author: Antonina Zmeevets

 Event Manager at UKAD
#work-life balance

#hr

#benefits