eLearning development with Umbraco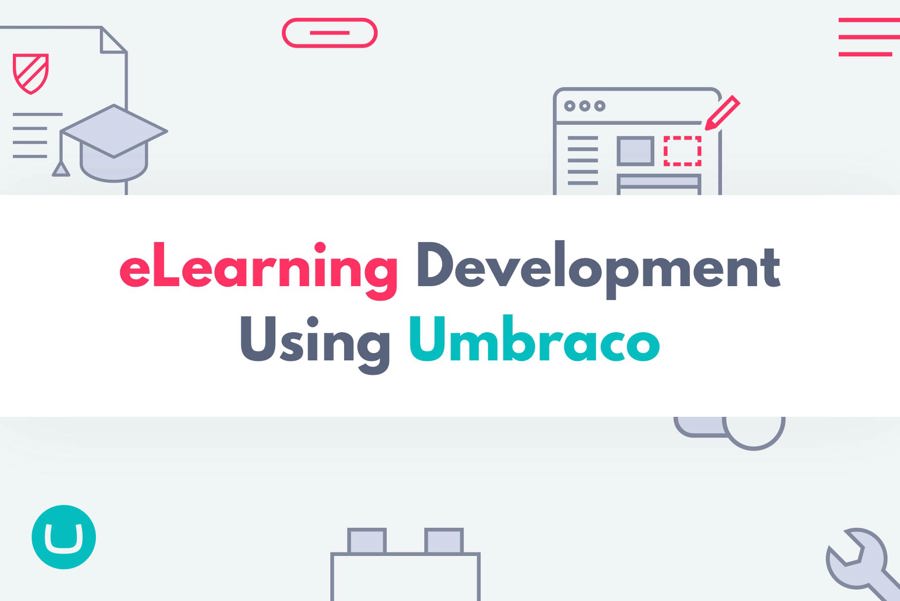 eLearning development with Umbraco
If you've already spent several minutes on UKAD's blog, you should get out that we love Umbraco. Overall, it's a very flexible CMS allowing us to use it for literally everything. For example, e-Learning solutions in which we are masters. As examples of our approach in eLearning development with Umbraco, we'd like to use Improve Educations, the platform developed for Swedish customers to train fitness instructors using bytes of content grouped in courses and chapters with a kind of examination at the finish. This concept allows owners to manage this learning project with a lesser manager's efforts while the quality remains.
Why Umbraco 8?
The major point of each CMS-based project is platform selection. To better understand the solution, it's necessary to get out why it is built with the exact technologies stack. So, here are some points which may ensure that Umbraco 8 is the best choice for e-Learning development:
it's time - and cost-effective, so both developers and customers are happy
it's easy to augment with plugins and get the results you really need
perfectly managed, thus owners don't need to hire developers while they need to add, remove or edit courses
customizable, which is used in Improve Education for third party contractors' branding
looks good and comfy.
Of course, talking about e-Learning development, the main point of using Umbraco is easy content management. The block-based organization allows creating numerous structured courses with variable access, which is almost the same in real-life schools. As soon as we're about modern learning projects, lots of visual content, especially embedded videos, are included.
Under the Hood
Okay, let's talk about how it works with the examples! So, how to develop an e-Learning website with Umbraco? At first, we have to underline that it's not suitable for high-load projects and fast-changing content, so don't try to use it for public online lessons with several hundred participants. But it's perfect for some kind of slow project which actually Improve Educations is.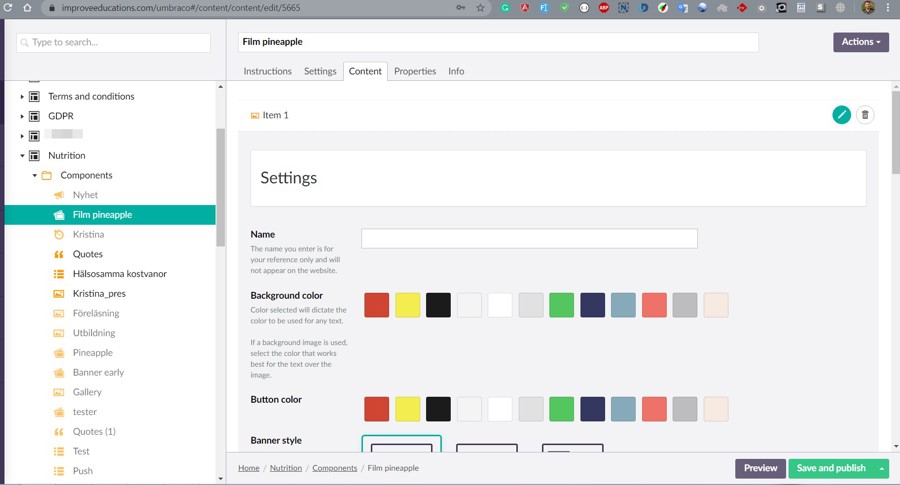 Customization with CMS tools
As soon as our e-Learning solutions has no (or almost no) hardcoded elements, our customers don't need to hire developers after release. But at this time, we decided to do even more! Using common Umbraco content management tools, administrators of Improve Educations can easily customize a page layout, change fonts, colors, and so on. At the same time, we've implemented a possibility to create branded courses for side-part companies working in collaboration with Improve Educations. And it's also suitable for blog posts which is very important for marketing purposes. 
User's access to courses is solved most comfortably and safely - with unique tokens added to URLs. In this way, operators can manage multi-tier access just in a few clicks. Combining with inbuilt mailing tools, it allows creating various promotional lessons or simply maintaining complex content distribution. With easy content customization and automated issues of certificates, Improve Education has all the functionality of top-grade educational projects but developed with dramatically less effort.
Read more
Read more
What does modern education look like? It is clear, interesting, and insightful. Just as a solution developed for Improve Educations by UKAD.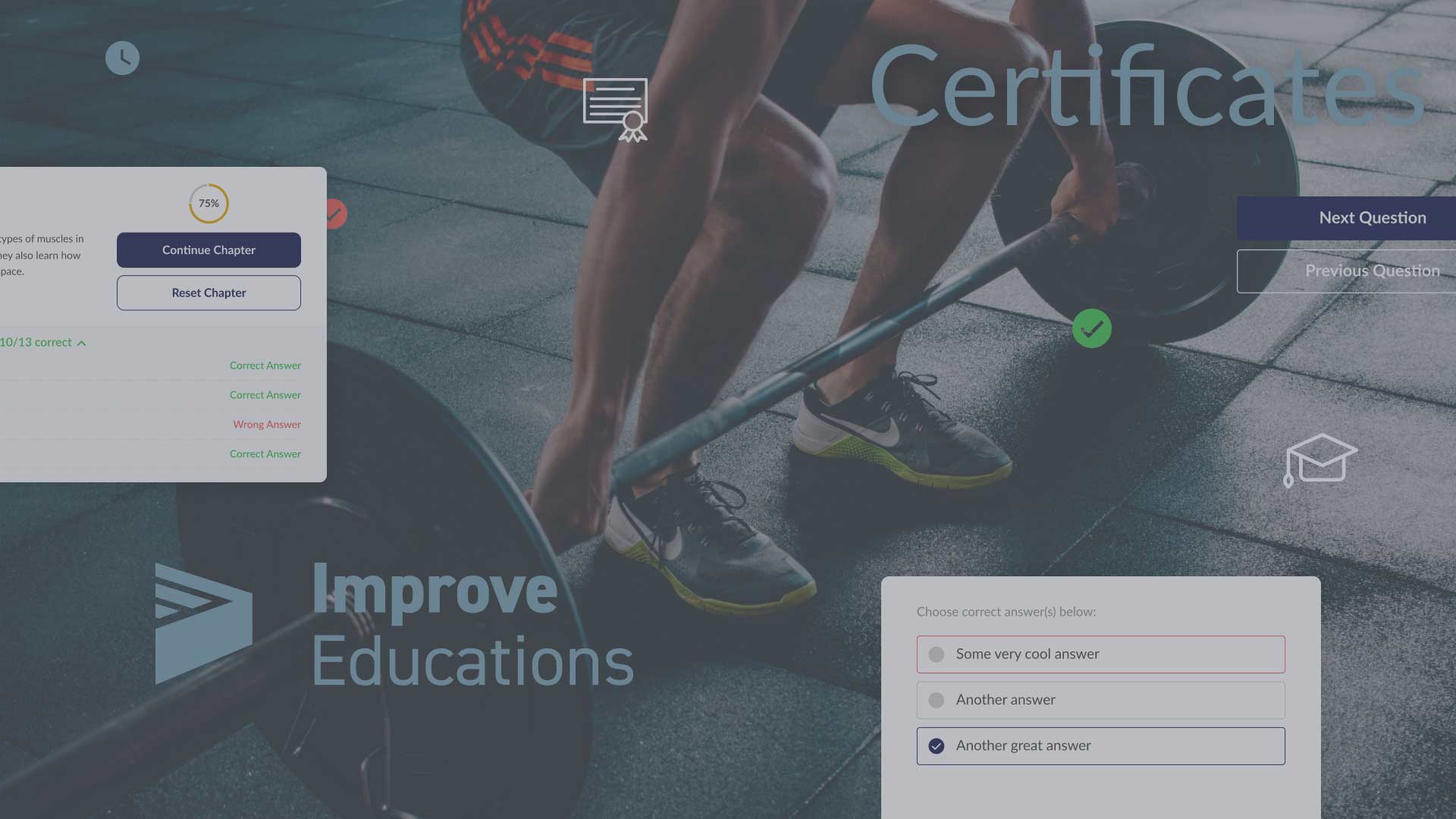 What's here for Users?
The designed solution is extremely user-oriented. At first glance, it seems very friendly to managers, but users get even more. The most important feature implemented in Improve Educations is automated certificates issue. It's not necessary to visit any real-life exams, or wait for mentor's approval, or do anything else to get a certificate. Just run through the course and pass the exam. Then, get your document and be proud of yourself. At the same time, this certification is not a worthless paper, because all results can be validated with simply a manager's search.
'How-To's
Using Umbraco 8, some plugins and original solutions, UKAD developers create powerful and friendly eLearning platforms that meet our customers' needs. We understand what is necessary for online education and how to do it in the best way. And now we'd like to share some ideas for your project!
First of all, we highly recommend using Umbraco themes or templates for two reasons: it saves time and provides many awesome features from the box. Otherwise, it's not a great problem to construct a unique website with Umbraco, if no templates are meeting your requirements. Unlike some other content management systems, here templates don't set strict limits to the website's purposes.
Now, let's talk about the content structure. While Umbraco's content is organized in blocks, it's easy to build any structure you need without additional coding. So, we just split courses into logic parts, let's call them lessons, then put each lesson into a separate node, and so on, and so on. In this way, we create a well-structured easy-to-operate hierarchy of learning materials that don't need deep tech skills to operate. These structured blocks of content are probably the best Umbraco's feature for eLearning projects, because they allow organizing the learning process just in the same way as in real-life schools and with the same efforts.