Top Software Development Outsourcing Countries
Top Software Development Outsourcing Countries
What is the most important problem faced by each technology-related startup? For the USA, Canada, and Western Europe it will be RnD costs. Talking not only about Silicon Valley with all these 6 digit salaries but also other locations it's very expensive to develop your product at home when you live in Sweden or the United States. What about 100+ USD hourly rates at below-the-average quality? Easy! In fact, high living standards lead to equally high labor costs, commonly unbearable for most of all except the grandes such as Facebook. So, here comes an obvious idea: outsource it!
Where outsource software development?
Well, you're ready for offshore outsourcing and looking for something interesting. At the time (November 2019), the most popular destinations are Eastern Asia and Central and Eastern European region, when African countries are catching up with this position, and some new stars are about to emerge in Latin America. So, let's take a close look at the top 10 software outsourcing countries!
Asian Squad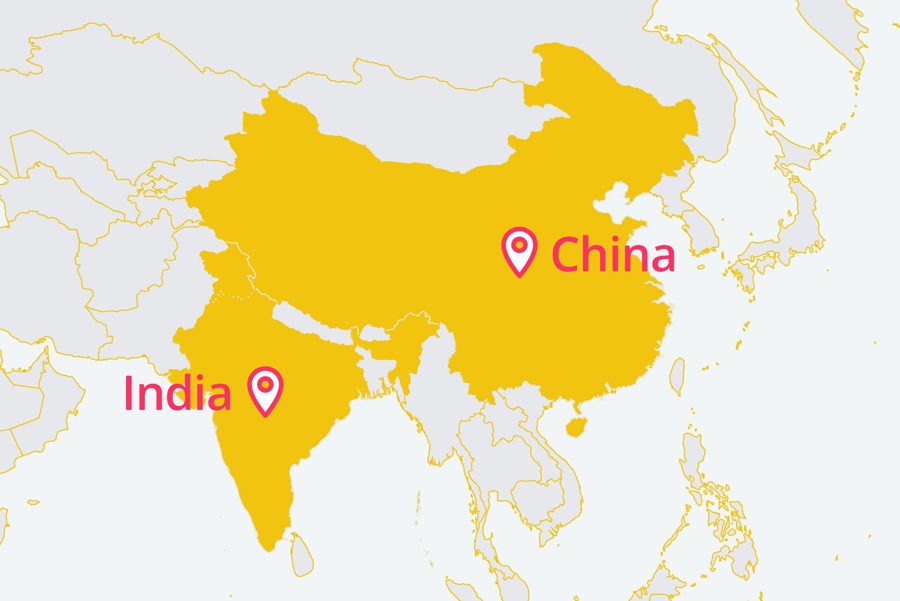 India
For years it was the first and probably the only place to outsource services. Being the second-largest country by population and the biggest English-speaking country in the world, India seems to be an interesting destination to outsource. But here comes a threat. Not only The Indian Code, which used to be a common joke object inside the programmers' community, but also very special business ethics and the whole atmosphere. All these risks were highlighted many times during the last 20 years, and everything seems to stay the same. On the other side, the code quality was dramatically improved and some companies involved top-notch service practices. But the overall situation is rather similar to described in this old-but-gold article, and if you have no experience in Indian development outsourcing it would be better to choose the other destination. Otherwise, if you know how to make this collaboration prosperous, why not to try.
China
The next destination is a real outsourcing rockstar! Today almost everything is made in China, your shoes, your jeans, your smartphone, and most of all software installed on it by default. Rapidly developing industry forced Chinese people to learn how to produce not only hardware but also software. This nation successfully launched epic projects like Alibaba and its own internet with all those services: search engines, streaming, blogging, eCommerce and so on. Chinese developers are also highly ranked by HackerRank in hypothetical programmers Olympics. And they don't charge huge rates!
Seems good, doesn't it? But cons are also dramatic. At first, it's a communication barrier. There are only 10 million English speaking people in China, which is less than 1% of the whole population, and most of them are located in hospitality and tourism, not software development. The next threat is the fact that Chinese companies don't care about Intellectual Property. So, be ready to find several duplicates of your product made in China.
Here also should come many more countries including The Philippines and Taiwan, which are also well-known destinations to outsource research and development. But they are rather local stars, than world-level due to many reasons.
Exotic Destinations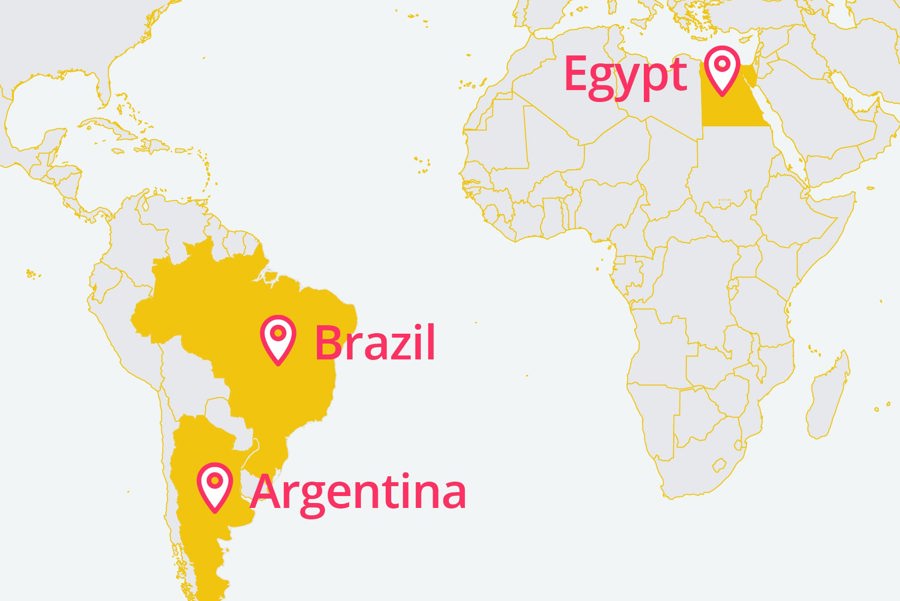 Here come some countries which are very interesting to travel and rest, and not commonly associated with IT services.
Brazil
One of the emerging stars in software development outsourcing. Brazilian developers aren't well-known but in the next several they should be. At first, the Brazilian economy is dramatically growing. It took less than 100 years to upgrade from tallow candles to world-class aircraft and become the second American manufacturing sector. Secondly, Brazilian education is becoming better and better from year to year, also improving the computer science area. So, it would be expectable to find several top-notch development companies from this country on Clutch or anywhere else. But at the time outsourcing development services to Brazil remains a bit risky because of the young workforce. It's easy to find good junior-level developers there, but you have to look for architects and tech leads somewhere else.
Argentina
I bet, you believe it's not a country that commonly associated with IT and similar things. For most Europeans Argentina is about prime beef, good wine, and tango, but on the other side of the Atlantic Ocean, it's already a popular place to hire software developers. American companies enjoy lower rates and comfortable time zone differences.But it's not a very popular destination for the rest of the world. At first, developers from Argentina usually charge quite high rates compared to the CEE region and Eastern Asia, along with lower average quality. Next, the location is comfortable only for Americans sharing similar time zones.
Egypt
One more country which is better known for tourism than other business domains in this list. But I bet, the 20 more years of the current course will make Egypt one of the top 10 software outsourcing countries. It's already a popular place to look for tech partners among companies from Israel and the Emirates. So, if you are playing on the long-distance, cooperate with Egyptian developers in the next way: hire juniors here and architects elsewhere. Otherwise, you may not benefit from its really low rates! The industry is only at the start of development, so it's not easy to find top-notch professionals here despite a huge programmers' number that emerged in Egypt in the last several years.
Back to Europe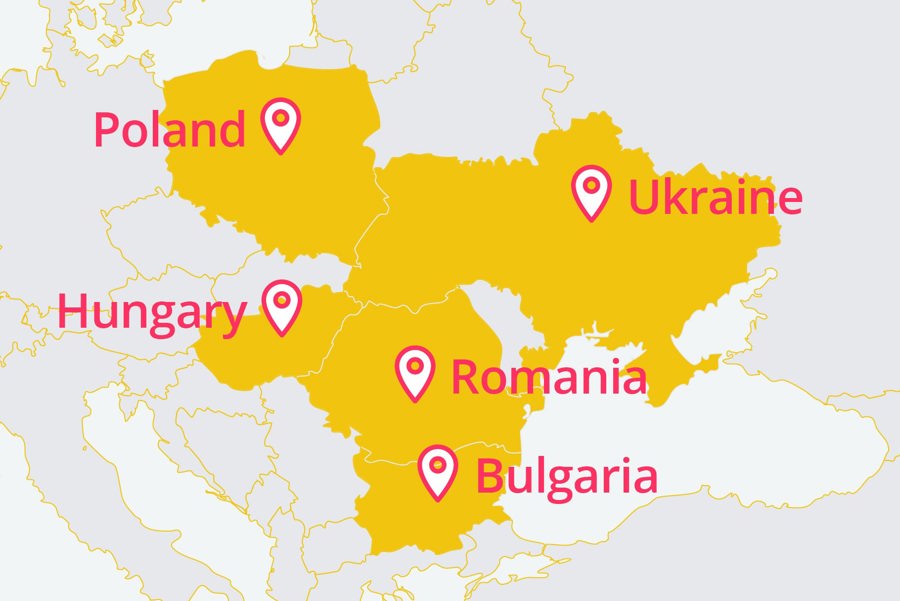 So, what are the top 5 countries for IT offshore outsourcing? The answer is predictable: Poland, Hungary, Bulgaria, Romania, and Ukraine. I will make a reservation right away, it's a quite subjective list because it doesn't include Czech Republic, Russia, Belarus, and Baltic Countries which are also performing very good in this field.
Outsourcing software development to the CEE region is very popular for at least 15 years. It's quite cozy, bountiful and safe enough to attract customers from all around the world: Western and Northern Europe, the USA and Canada, Israel, the Arabic countries, and so forth. The reasons for such popularity are the same in every case. At first, modest rates. Secondly, a high level of education. And then cultural similarity. Add here quite a good infrastructure and low distance for business travels to get the recipe of Eastern European outsourcing success.
So, let's talk about each country in detail!
Poland
Outsourcing software development to Poland became common practice around Europe many years ago. Poland collocates around 1.5 percent of the net developers' population which is at least 160 thousand in absolute number with over 15 thousand of the expected growth each year. Polish developers are well-known as tech-savvy people with good English skills which can do awesome things in every business field: from eCommerce to AAA-level video games. And they also share the same time zone with their main customers in Western Europe. Otherwise, most of all Polish companies do understand their pros and never hesitate to charge greater rates than other ones in CEE.
Hungary
As soon as Poles decided to charge more, some new destinations emerged. For example, German-speaking countries discovered outsourcing software development to Hungary. Thanks to the very short distance and cultural bonds Hungarian developers firstly attracted Austrian customers and reached enough skills to work with leading companies from other parts of Europe and the world in several years. So, it's not a big quest to hire a team that worked with Lufthansa or IBM in Hungary. But here are two huge stoppers! At first, Hungary remains strictly bounded to Austria and Germany, which means people in this country prefer to learn German than English. It's easy enough to hire a team with English-speaking Project Manager but you may not expect personal interviews with every single developer. Secondly, it's a small country with a humble talent pool, so be ready to face some issues with extending a team or replacing developers.
Bulgaria
This country used to be the Silicon Valley of the Eastern Block in the 1980'th, then suffered from an economic crisis. And in a few last years, outsourcing software development to Bulgaria has become very popular again. The reasons are the same: quite a good level of developers and low rates. In addition, Bulgarians are about to join the Eurozone which will bring easy financial operations. On the other hand, you can't find there a huge talent pool. There are only 25 thousand developers, primarily located in Sophia, which is almost equal to the Ukrainian annual graduates' number.
Romania
It seems to be, that in the next several years Romania will become a country of software developers instead of vampires and castles. Today, this country has around 100 000 of programmers with good enough English skills and expected 5-7 thousand graduates annually. Romanian developers are interesting for contractors from France, Spain, and Italy more than other ones in CEE. Their native language is Roman, not Slavic, so they commonly speak other Roman languages which aren't very popular in the rest of Eastern Europe in addition to English.
Ukraine
Ukrainians are the only true competitors of Poles, talking about offshore software development outsourcing. And they are beating western neighbors!
It's just enough to say that Ukrainian software developers number is going to reach 200 thousand next year, and most of them are well-skilled, English-speaking people with high or higher STEM education oriented on the Western values. With such a background Ukraine has expectedly become the 1st outsourcing market in Eastern Europe according to Outsourcing Journal and the 1st in CEE by outsourcing volume according to CEEOA.
Why outsource to Ukraine, instead of other countries, - you may ask. And it is a legit question because Ukraine is surrounded by other top-notch locations. But, let's take a look at some facts!
Ukrainian IT started over 70 years ago! It's unbelievable but one of the oldest computing systems in the USSR and continental Europe - 'MESM' (Small Electronic Computing Device) - was designed and launched in Kyiv in 1948-1951. 
From 2013 to 2018 the IT sector's part in the Ukrainian GDP increased from 0.06% to 3.3%
The Ukrainian talent pool is increasing with 25 - 40 thousand (according to different data) graduates annually which provide almost unlimited opportunities to grow.
Samsung, Boeing, Siemens, Oracle, and many more international tech giants have R&D facilities in Ukraine. Ukrainian startups such as Grammarly and DepositPhotos lead their niches for years.
Ukrainian taxation policy, payment practices, and labor costs allow establishing rates below the average for the CEE outsourcing market with equal or even higher quality.
What is really unique about Ukrainian software outsourcing is orientation not only in Western Europe. Many companies work with the USA and Canada, Israel and Arab countries as soon as most of all their competitors from CEE are interested only in Germany, the UK, and Nordics. This situation also leads to a greater range of available technologies and a more interesting experience among the developers causing fresh ideas and unique approaches.
All these things make Ukraine an honored leader of offshore outsourcing market not only in Central-Eastern European region but in the whole world.
Discover Ukraine with UKAD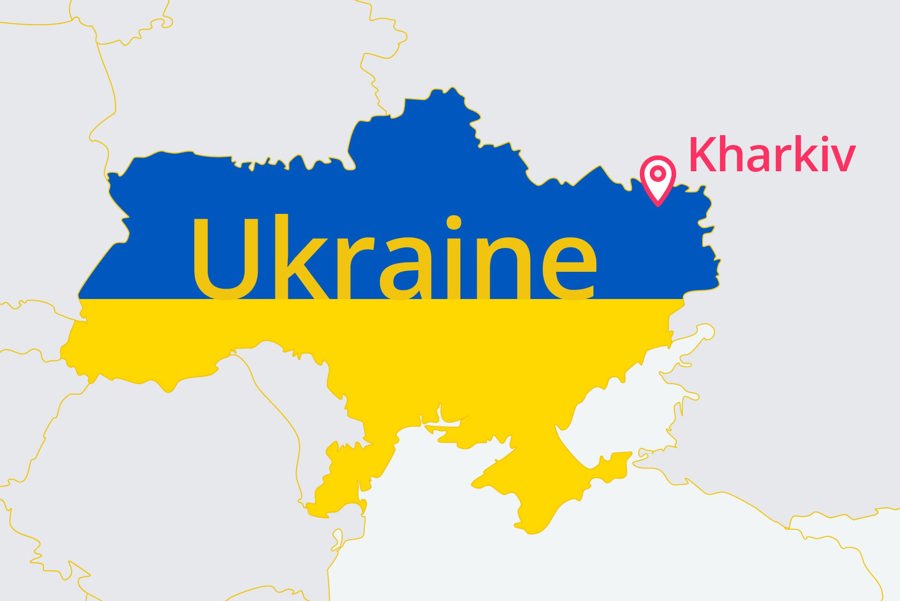 Author: Denys Maksymenko

 CEO UKAD
Outsourcing

IT outsource

Ukraine